Bringing the Dreamwork to the Picturebook
Maurice Sendak's »Where the Wild Things Are«
Abstract
Combining cultural history with the insights of psychoanalytic theory, this article examines Maurice Sendak's Caldecott-winning and controversial Where the Wild Things Are (1963), arguing that Sendak's book represents picturebook psychology as it stood in the early 1960s but also radically recasts it, paving the way for a groundswell in applied picturebook psychology. The book can be understood as rewriting classical Freudian analysis, retaining some of its rigor and edge while making it more palatably American. Where the Wild Things Are has been embraced as a psychological primer, a story about anger and its management through fantasy; it is also a text in which echoes of Freud remain audible. It is read it here as a bedtime-story version of Freud's Wolf Man case history of 1918, an updated and upbeat dream of the wolf boy. It is to Sendak what the Wolf Man case was to Freud, a career-making feral tale. Standing at the crossroads of Freudian tradition, child analysis, humanistic psychology, and bibliotherapy, the article reveals how the book both clarified and expanded the uses of picturebook enchantment.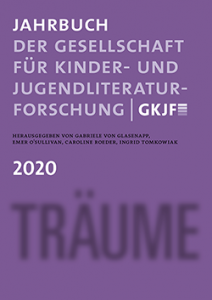 Downloads
Lizenz
Copyright (c) 2021 Jahrbuch der Gesellschaft für Kinder- und Jugendliteraturforschung
Dieses Werk steht unter der
Lizenz Creative Commons Namensnennung - Nicht-kommerziell 4.0 International
.