»Mehr als das« – ein programmatischer Titel auch in gattungstheoretischer Hinsicht
Patrick Ness' Roman als Hybrid aus postmodernistischer Utopie und Adoleszenz-Roman
Abstract
Artikelbeginn:
[English title and abstract below]
Dieses Buch ist so Mindfuck. [...] [D]ieses Buch lebt davon, dass man keinen Plan hat. Dass man, genau wie der Protagonist, keine Ahnung hat, was da eigentlich abgeht. [...] Wie der Protagonist hinterfragt man das, was man kennt, denkt sich zwischendurch »wtf« und ist sich einschließlich des Endes nie so ganz sicher, was jetzt eigentlich Sache ist. (Weltentraeumerin 2019)
Dieses Urteil der LovelyBooks-Rezensentin Weltentraeumerin über Patrick Ness' Mehr als das (engl. EA More Than This) ist insofern repräsentativ, als fast alle der etwas ausführlicheren Rezensionen auf der Plattform hervorheben, dass die Lektüre dieses Buches mehr Fragen aufwirft als sie beantwortet.
Patrick Ness's More Than This
A Hybrid of Postmodern Utopia and Adolescent Novel
The novel More Than This (2013) by Patrick Ness is an enthralling but potentially disconcerting text; the construction principle of which seems to be deliberate confusion. It tells the story of 16-year-old Seth who drowns in the first chapter of the book and then finds himself in a desolate, abandoned place, wondering whether he is still alive or in some version of hell – or somewhere in between – and dreaming his last dream in the moment of death. Or might Seth have woken up from what could be called a collective dream, a virtual reality that has become the safe haven for humanity after the physical world has become uninhabitable? Neither the protagonist nor the reader is given a conclusive answer. This article addresses the literary strategies that are deployed in the novel to create this plurality of possible readings. Specific attention is paid to the way in which structural elements of the utopian novel and the adolescent novel are combined and hybridised. Drawing on the concept of heterotopia as a postmodern utopian subgenre, it is argued that More Than This can be read as an aesthetic realisation of a post-modern frame of mind, generating what Jean-François Lyotard calls the differend, and thereby offering readers the opportunity to consciously endure radical plurality.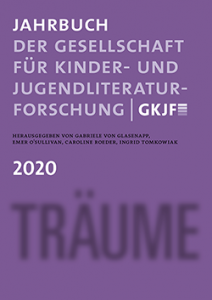 Downloads
Lizenz
Copyright (c) 2021 Jahrbuch der Gesellschaft für Kinder- und Jugendliteraturforschung
Dieses Werk steht unter der
Lizenz Creative Commons Namensnennung - Nicht-kommerziell 4.0 International
.